Written by Stuart Sutley, Bolton Innovation Group
Fall 2022
The Impact of Contracting Cycles
It certainly comes as no surprise that the hope for a quick drop in inflation has not happened. Despite energy prices falling 5% in August, according to Bloomberg, overall inflation inched 0.1% higher for the month of August and is up 8.2% year over year. Consumers continue to spend, and employers continue to add jobs at an unprecedented pace; during the first eight months of 2022, payroll employment increased by 3.5 million, more than in any year from 1939 to 2020. Hiring would occur at an even faster pace if not for widespread labor shortages, which remains a significant headwind for both economic growth and combatting inflation.
Over the past few months, I have had the opportunity to meet with a number of employers who are experiencing above average increases in medical and pharmacy claims with the initial assumption the increases are due to inflation. Although there may be some inflationary pressure on current healthcare costs, the employers' claims data revealed the increases are primarily due to a surge in plan members seeking health-related services they avoided during the pandemic (dermatology visits, cancer screenings, dental visits, etc.), and the continued rise of specialty pharmacy costs. Did most employers anticipate the surge of claims due to avoided care over the last 2.5 years? In general, yes. But what most have not accounted for is the lag that occurs with rising healthcare costs due to carrier and health system network contracting. Basically, this past year's healthcare costs have been "fixed" based on prior contracting, thus healthcare inflation has not been factored into today's rates and will be significant as new contracts are negotiated over the next few years.
We all are aware that the healthcare industry's costs spiked in late 2020 and 2021 during the COVID-19 crisis. Labor costs per adjusted hospital patient discharge grew 25% between 2019 and 2022, closely followed by pharmaceuticals at 21%, supplies at 18%, and services at 16 percent.1 While these costs have moderated in 2022, they continue to be above the norm; in particular, growth in labor cost remains high. As carriers negotiate future network rates, health systems will understandably push for higher than usual network increases to offset their costs. What employers are currently paying are rates negotiated prior to the pandemic and inflation surge.
At present, the increase in healthcare costs is being felt primarily by providers. Largely driven by a lag in contracting and renewal cycles, it can take several years for the impact of inflation to filter down to reimbursement rates. In employer-sponsored lines of business, providers' ability to pass on increased costs is governed by contracting life cycles (the average contract locks in specific rates and inflation escalators for approximately 3-4 years) and by the outcome of negotiations. Given this contracting life cycle, it is expected it will take one to three years for incremental costs associated with the commercial population to flow from providers to payers. Payers' ability to pass these costs onto employers will be linked to bid cycles, with the first major impact likely occurring in the 2024 pricing cycle (to be negotiated in 2023).
For the last 4-5 years, in relative terms healthcare trend has been "tame" at 4-6% on average for self-insured employers. As future rate setting contracts are being negotiated, providers and payors will be challenged to temper increases to Medicare and Medicaid recipients. Medicare and Medicaid premiums are already projected to see above average increases as the Biden administration finalized an 8.5% increase in rates to Medicare Part D and Medicare Advantage plans, slightly above the 7.98% proposed earlier this year. We know 8.5% is not sustainable year over year, so who is going to carry the brunt of the increases in healthcare spend? Employers and their employees/families.
According to a McKinsey & Company article published September 16, 2022, entitled The Gathering Storm: The Uncertain Future of US Healthcare, the potential for healthcare expenditure growth to significantly exceed economic growth in the short-term is driven by a combination of current high inflation, a persistent clinical staff shortage, and lower economic growth in 2023. With global uncertainty with the war in Ukraine and market dynamics we have not witnessed before. It will be an interesting next few years.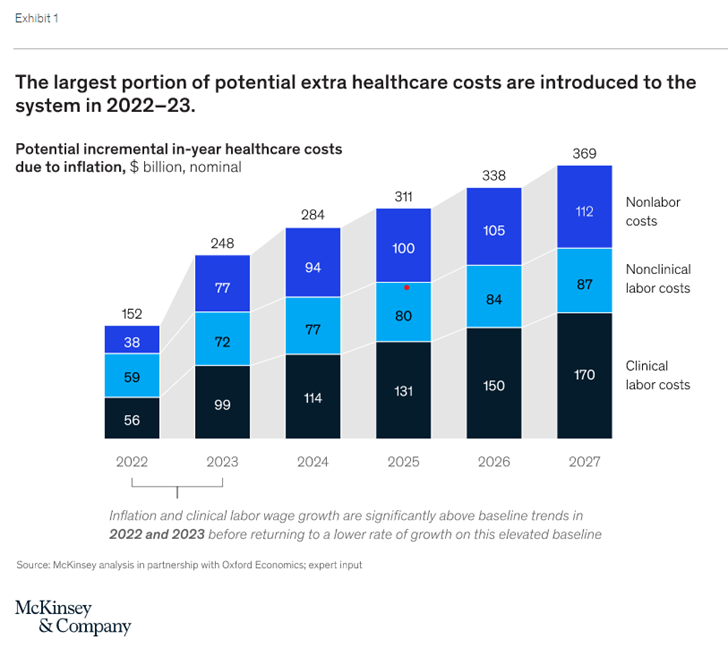 What Does this Mean for Employers
Over the next few years, employers will face the choice of bearing the brunt of these increased costs or passing more costs to employees. For school systems and other public sector entities with fixed budgets that rely on superior benefit packages to recruit and retain talent, their choices are even more daunting:
Absorb the cost and cut programs, classes, etc.
Reduce benefits
Seek tax increases or other subsidies to offset these increases
For those entities with Other Post-Employment Benefits (OPEB) obligations, the need to dedicate more dollars to cover future cost exposure is also a daunting landmine.
Although there are a number of levers to pull to combat rising costs, there are two strategies worth pursuing now to prepare for what may be inevitable. These strategies include a disciplined approach to "fixing" variable spend through bundled procedures, direct primary care and mental health services through bricks and mortar health centers, and/or virtual "concierge-like" primary care and mental health services.
Why bundles? Many top-tier health systems in the US offer complex procedures at fixed prices. This includes pre and post-op services/support. Not only do these fixed-cost procedures offer employers line-of-sight into the spend of certain high-cost procedures, they also denote quality for the patient. A health system would not put themselves in financial risk if it were not confident in the quality and outcomes of these surgeries. As an example, Johns Hopkins Medicine offers over 150 bundled procedures…its no longer just hips and knees.
Why direct primary care? Today's Direct Primary Care vendors offer a wide variety of primary care and mental services at a fixed monthly rate. Under this model clinicians spend on average 30-45 minutes with each patient to manage the entire needs of the individual. As a result, referrals to specialists are greatly reduced, the patient is better managed, and whether patients visit once a month or 30 times a month, the cost stays the same. Not only does this better manage healthcare costs, it is a great benefit to assist with recruiting and retention. Physical health center access and virtual access models are available, and even manage prescription needs.
To start combatting future healthcare costs employers need to own their medical/Rx data and get bold with incentives and plan design to achieve optimal member choice and satisfaction while managing spend. It can be done, but it takes time, commitment, a little risk tolerance, a solid communication strategy, and senior leadership buy-in.