Salary budgets continue to grow
Over the past year, inflationary and labor market pressures have contributed to dramatic salary budget increases. This trend is consistent throughout all US regions, as well as globally.
These pressures have been greater than expected. According the 2022 World at Work Salary Budget Survey, 2022 actual US budgets (4.1%) were nearly a full percentage point higher than projected (3.3%). This is also a significant rise over actual 2020 and 2021 budgets (2.9%). Not only are budgets increasing, but the time between increases is shortening, down sharply from an average of 13.5 months in 2021 to 12 months in 2022.
Budgets were consistently high across job levels, industries and regions in the US. Across levels, budgets differed only slightly, ranging from 3.9% for executives to 4.1% for exempt salaried employees and 4.2% for non-exempt salaried. Across industries, they ranged from 3.9% for educational services to 4.7% for public administration. And across the US, budgets ranged slightly from 4.0% for the eastern, central, and southern regions, to 4.1% in the west.
Smaller organizations reported higher budgets than larger ones. Organizations with less than 500 employees set an average budget of 4.5%, while the largest organizations reported budgets of 3.8%. This trend was also reflected in revenue, as organizations earning between $10 - $100 million had an average budget of 4.5%, while those with the largest revenue (over $10 billion) reported a budget of 3.8%.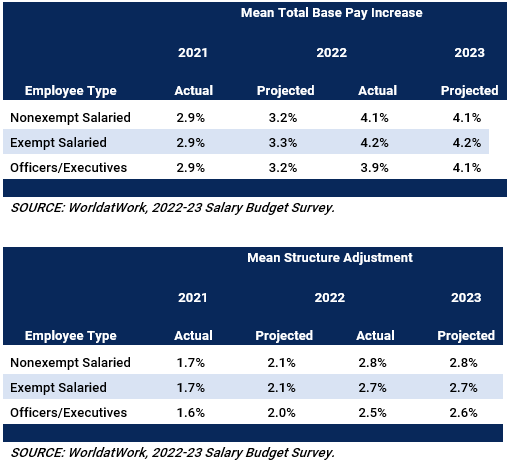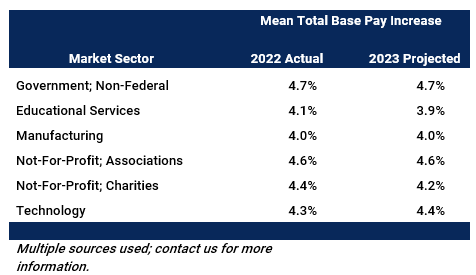 Special pay actions are increasing as well
The World at Work report found that merit increases made up the largest increase type (3.5%), followed by cost of living and other increases. Further underlining the need to retain talent, the majority of "other" increases included retention adjustments (83%) and market/competitive adjustments (57%).
Many organizations have increased the number of special pay actions. According to the Conference Board's 2022-2023 Salary Increase Budget Report, nearly half of all US organizations took special base pay actions. These included actions such as off-cycle salary reviews and across-the-board adjustments.
External pressures have also impacted pay practices and structure. For example, the Conference Board report found more frequent benchmarking and updating of market data. Many organizations expanded their pay ranges and bumped up their range minimums.
Global trends mirror the US
Outside the US, salary budgets followed a similar upward trend. According to World at Work, Canada and Mexico both saw full percentage point increases, from 2.7% to 3.7% for Canada and from 4.7% to 5.7% for Mexico. The United Kingdom also saw a full point increase, from 2.8% to 3.8%, while India's average budget continued to skyrocket, from 8.7% to 10.1%.
As in the US, global increases took firms by surprise. According to Willis Towers Watson's 2022 Salary Budget Trend's Report, approximately one-third of organizations in the world's 15 largest economies said that actual budgets were greater than projected. Reasons for the increase included issues such as the labor market, cost management, and employee concerns.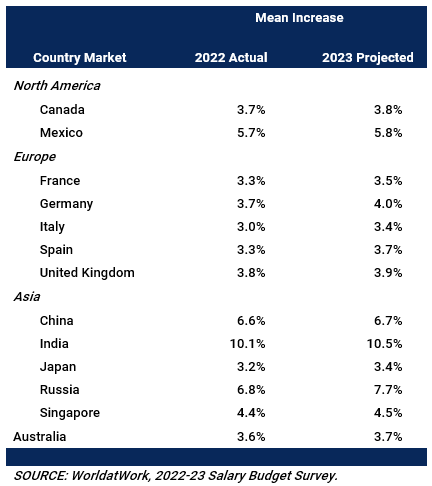 Looking forward
Most organizations are projecting budgets to remain constant or increase slightly for 2023. In the US, the projected 2023 budget was expected to remain flat at 4.1%, while Canada, Mexico and the UK each projected increases of only 0.1%. The projected increase for India was up 0.4% over 2022, reflecting continued wage growth there. While projected increases are generally modest, it's worth noting that actual budgets from 2022 greatly exceeded projected budgets.
Given the great change we've seen in pay over the past year, HR professionals would be wise to monitor trends closely with precise market data. Don't just spend – spend smartly by identifying your top performers and rewarding them. Make sure you know where you are losing talent. Target these areas as well. Finally, be sure that your rewards strategy closely supports your business goals. These guidelines will serve you well no matter what the future holds.
For more information contact a Bolton consultant today.